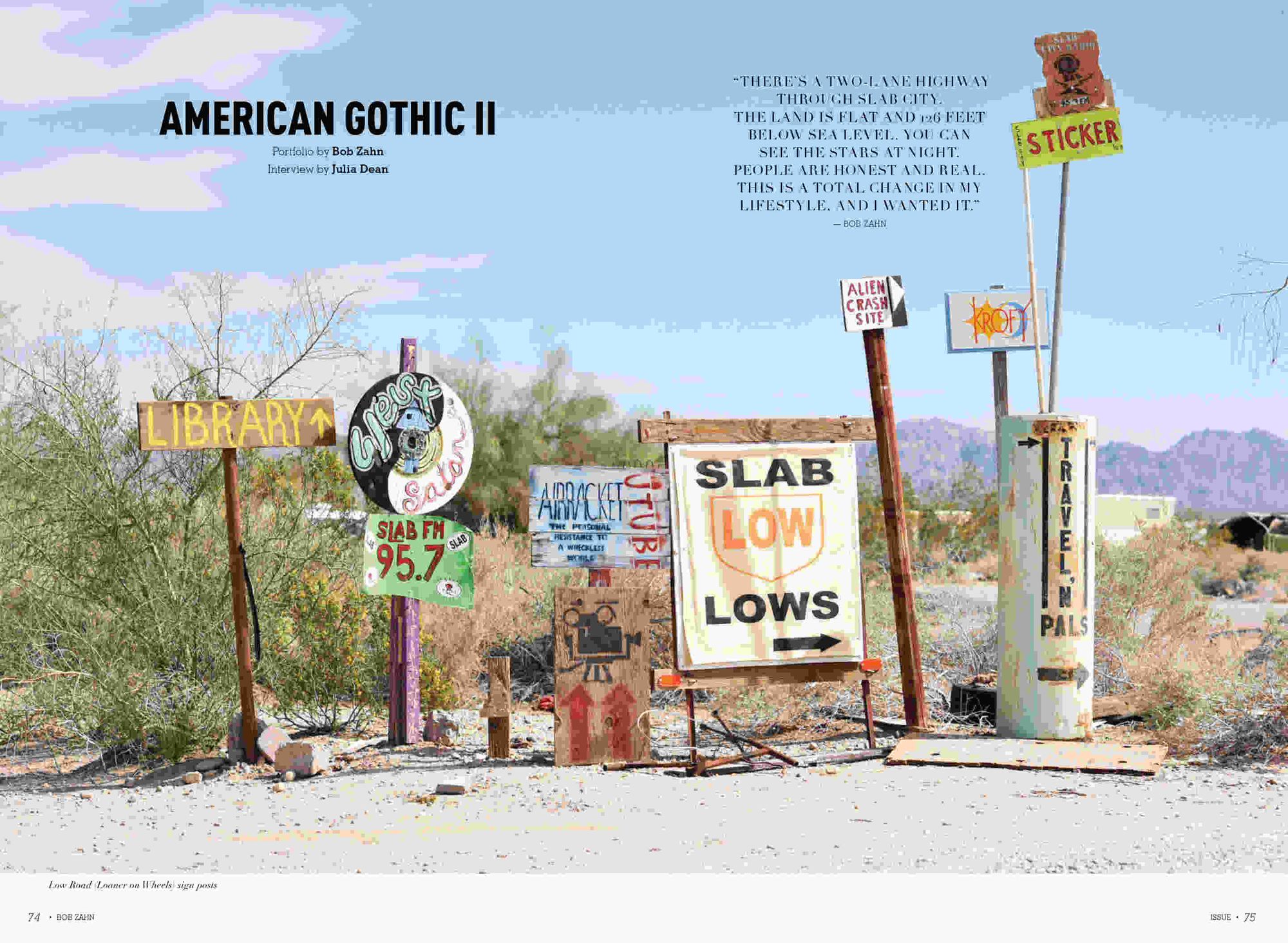 ARTIST STATEMENT:
I imagineer compelling photographs capturing presence, in revealing moments, that endure.
PUBLICATIONS AND ONLINE EXHIBITIONS
-The Photo Review Magazine online exhibition of 'And Now What' a portrait made using the Mamiya RZ67 6x7cm film camera and 110mm f2.8 Mamiya Secor lens. Seen on the web in worldwide distribution.
- BuzzFeed News - 'Slab City: Land of the Truly Free' a photo feature of pictures and words edited by Gabriel Sanchez LIVE, online, as of 4/11/18. Go to: https://www.buzzfeed.com/gabrielsanchez/heres-what-its-like-to-drop-everything-and-live-off-the-grid?utm_term=.neQxMJPk2#.tdoyobG9D.
- PhotoPlace Gallery. 'The State of America' (2017). 'Couple, Venice, Ca.' Juror: Jim Richardson. Online gallery website exhibition plus publication by Blub Books.
- ASC Magazine Online 'Dunkirk Discussion with Hoyte van Hoytema, ASC, FSF, NSC and Dan Sasaki, Panavision VP, Optical Engineering.' Candid portraits from the event at the ASC Clubhouse in Hollywood (Dec., 2017)
- 3rd Annual Creative Portrait Exhibition 2017: Los Angeles Center of Photography. Gallery and online exhibition (Nov. 10, 2017 - Feb. 6, 2018)
- REVIEW: Santa Fe, Santa Fe, NM. 'American Gothic Revisited: Slab City - The Last Free Place In America' ©. 22 page Zine. Oct. 27-29, 2017.
- PhotoPlace Gallery. 'Man in the Ladscape' (2016). 'Jazzy's Camp. Slab City.' Juror: Brett Erickson. 1 of 35 images selected for gallery exhibition Oct. 5 - 28. Online exhibitin plus publication by Blurb Books.
- Issue Magazine 03-2016. Full art feature article on 'American Gothic II' Slab City' published June, 2016. 18 page spread, 12 color photographs plus an interview by Julia Dean, founder and chief executive of the Los Angeles Center of Photography (www.lacphoto.org). Available online at www.issuemagazine.com/american-gothic-ii/#/. Also in magazine form from Issuemagazine.com or amazon.com.
- PhotoPlace Gallery: 'Stories and Secrets' (2015).'Cuervo' and his Mule 'Rock 'an' Roll.' Jurors: Kristen Hoving and Emma Stone. Online exhibition and publication, Available from Blurb Books.
- PhotoPlace Gallery: 'Open Call - Your Greatest Hits' (2012). 'Untitled (Recling Nude).' Juror: Neil Harris, Assocate editor, Time Magazine. Online exhibition and publication, Available from Blurb Books.
- Rivertowns Enterprise. Interview and photograph from RiverArts Studio Tour preview (2011).
.'Portrait of an Artist: Isamu Noguchi.' VHS cover photograph. (1980)
- 'Norman Connors - Dark of Light.' Vinyl album cover and liner notes. (1973)
GALLERY EXHIBITIONS
- Juanita Salazar Lowe Art Gallery, Imperial Valley College, CA. Group Exhibition (Sept 6 - Sept 26, 2018)
- Los Angeles Center of Photography (www.lacphoto.org) 2018 Members Exhibition, Hollywood, CA (July 19-September 7, 2018)
- Joshua Tree Art Gallery (www.jtag.com) Pop Up exhibition (June 23 - July 14, 2018)
- 'Reflections,' Group Exhibition, Paulaner on Bowery, Soho, New York City (Dec. 13, 2017 - Jan. 8, 2018)
- 3rd Annual Creative Portrait Exhibition, Los Angeles Center of Photography. Curated by Ann J. Jastrab. Gallery and online exhibition (Nov, 10 - Dec. 8, 2017)
- 'NYC Community,' Group Exhibition, Paulaner on Bowery, Soho, New York City (Nov. 1 - Dec. 15, 2017)
- 6th Annual Imperial Valley Film Festival and Artist Showcase, Movies at Imperial, Imperial, CA (Oct. 13 - 14, 2017)
- VISIONS, Anima Mundi, Palazzo Ca' Zanardi. 57th Venice Art Biennale (Sept. 14 - Nov. 26, 2107). Invitation declined, given inadaquite lead time
- 'Man in the Landscape' PhotoPlace Gallery, Middlebury, Vt (2016)
- 'The Portrait Exhibition' Howland Cultural Center, Beacon, NY. (2016)
- 'Month of Photography LA (MoPLA). Lucie Foundation. 'Analog Portrait Project,' Aesthesia Studios, LA. (2016)
- 'Imperial Valley Film and Artist Showcase,' guest artist. Barbara Worth Convention Center and Country Club, Holtville, Ca. (2015)
- 'First IVF Photo Exhibition.' UpSpace, Imperial, Ca. (2015)
- 'Photography Takes Over - 2015.' Upstream Gallery. Hastings-on-Hudson, NY. (2015).
- 'From the Center.' Calumet Photographics, NYC (2014)
- 'New Portraits' - The Station Cafe, Hastings-on-Hudson, NY (2014)
- 'RiverArts Studio Tour,' Sponsored by ArtsWestchester, and the NY State Council for the Arts. Hastings-on-Hudson, Dobbs Ferry, Irvington, Ardsley (2011, 2012, 2013, 2014).
- 'Gallery of Students and Teachers.' WCC Center for the Arts. County Center, White Plains, NY. (2013)
- 'Our Town - The Village of Hastings-on-Hudson, NY' Village Hall, Hastings-on-Hudson, NY (2010-2011)
COLLECTIONS
-'Slab City: Land of the Truly Free' © (2014-2018) https://www.buzzfeed.com/gabrielsanchez/heres-what-its-like-to-drop-everything-and-live-off-the-grid?utm_term=.bnxLbPvBD#.jeyZ219Ek
-'Gallery of Students and Teachers' (2013).
-'Our Town - The Village of Hastings-on-Hudson, NY' (2011) https://www.facebook.com/photo.php?fbid=3185943815933&set=a.3185774771707.158330.1485924307&type=3&theater
-'Street Performers - Playing for Free.' (1973-ongoing).
CAREER DISTINCTION
American Society of Cinematographers (ASC), Associate Member (2001-present). Supporting the finest cinenatographers, newest members and friends of the ASC with services and information that carry on & enhance the long tradition of 'Loyalty - Progress - Artistry.'
PERA (Production Equipment Rental Association), Vice President
AWARDS
-Oscar© -- No, not my own. It was awarded to 'Bowling For Columbine.' Best Documentary, Features. Michael Moore, Michael Donovan (2003). Filmed in HD24p with BVR supplied Sony HDW-F900 Cine Alta camcorder package. This was the 1st time a feature filmed in HD24p was given an Academy Award ©.
-Prime-Time Emmy Award: for contributions to the music-dance program - The New York City Opera 'La Bohème' by Giacomo Puccini. Live From Lincoln Center (PBS), (1997).
CINEMATOGRAPHY
-'Cinematographers Day 2000.' International Palm Springs Film Festival, Palm Springs, CA. Gathering of world renown directors of photography. Screenings, panel discussions, interviews and a lively breakfast discourse on the role of the DoP as auteur. Guests included: Conrad Hall, Vilmos Zsigmond, Owen Roizman, John Toll, John Bailey, Dean Cundy, Luciano Tovoli, Subrata Mitra, Anthony Dodd Mantle, Alar Kivilo, Pierre Lhomme; producer/director Irvin Kershner; fine art photographers Paul Caponigro, Michael Kenna (others). Monte Rowan, producer.
-'Portrait of an Artist: Isamu Noguchi'. Bruce Bassett, director. 2nd camera, audio, still photography. The renown sculptor narrates his life story giving new insight into the evocutive fusion of American and Japanese culture that characterizes much of his work.
-'Street Scenes 1970' directed by Martin Scorsese. With Harvey Keitel, Verna Bloom, Jay Cocks, William Kunsler. Premiered at the New York Film Festival (1971). In the Spring of 1970, nationwide protests against the war in Vietnam focused on the Wall Street area of New York and, ultimately, a major anti-war demonstration in Washington, DC. We, a group of NYU fim students guided by Scorsese, documented the demonstrations as they happened in both cities. Later in New York a massive amount of black and white and color 16mm footage was edited into this important record of day-by-day events.
FILMMAKING
-'Miracle on the Waterfront.' Producer, director. 60 minute documentary on a toxic level 2 waste site on the Hastings-on-Hudson waterfront. Interviews with governmntal officials of the United States, New York State, Westchester County and Hastings-on-Hudson, the DEC, Hudson Riverkeeper and Village residents. And a special appearance by Pete Seeger and Sloop Clearwater. (1997)
'The Physiology of the Human Cell - the Sodium-Potassium Pump.' Director, cinematographer, editor. Produced by Gilbert Ling, molecular biologist and cell physiologist, University of Pennsylvannia Hospital (1977)
WRITER/ASSOCIATE EDITOR
'Why We Make Films'
'The 5 Signs of Digital Cinema Acceptance'
'When Film and HDTV Collide'
'Digital Oscar'
'Just Call Ray'
'Jump Cut to DTV and HDTV'
'Digital Spike'
'Digital Lucas'
'Digitral Rodrigez'
BUSINESS
BVR © Broadcast Video Rentals, Ltd.© (1980-2010) NYC. 'People and Equipment That Work' © (www.bvr.com)
CLIENTS & PROJECTS (partial listings)
DOCUMENTARY FEATURE FILMS
-'Bowling for Columbine.' Michael Moore, Director (Academy Award, Best Documentary, Features 2003)
-'The Original Kings of Comedy.' Spike Lee, Director
-'My Architect.' Nathaniel Kahn, Director
-'Pete Seger: The Power of Song.' Jim Brown, Director
-'A Decade Under the Influence.' Ted Demme and Richard LaGravenese, Directors
TELEVISION SERIES
-'Live from Lincoln Center'
-'American Masters'
-'American Experience'
-'Dance in America'
TELEVISION SPECIALS
-MTV 'Rockin' New Years Eve' live from Times Square Y2K
-Barenbaum on Beethoven,' Great Performances,
-Martha Stewart Living 'Christmas Special'
-'The Making of 'The Producers.' PBS
-'Married in America.' Michael Apted, Director
-'The Hamptons.' Barbara Kopple, Director
-'Make 'Em Laugh.' PBS, Billy Crystal, Host
-'Life in Death Valley,' NOVA
-'Conversations with the Presidents.' A.C. Lyles, Producer
-'Salute to Lady Liberty.' George Schlatter Productions
EPISODIC TV
-'Americas Most Wanted.' John Walsh, host
-'Lydia's Kitchen' (Series premier)
SPECIAL EVENTS
-'Van Cliburn International Piano Competition' (6th, 7th, 8th)
-'Fashion Week - 7th on 6th' (7 Seasons, Spring/Fall)
-New York Film Festival
-Tribeca Film Festival
SPORTS
-1998 Goodwill Games
-1996 Summer Olympic Games
-NBA Draft
MUSIC VIDEOS & CONCERTS
-Amy Mann
-Sting
-The Rolling Stones
-U2
WORK HISTORY
BOB ZAHN PHOTOGRAPHY: Fine Art Portrait & Photojournalism, DSLR 35mm & Medium Format Film (2010-Present)
BVR, LTD.: Founder, Owner. Video, Production & Post Production Equipment Rentals and Production Services, available 24/7 including: Single & Multi-Camera Packages & Systems; Cinema Style Accessories; Dollies, Tripod & Support; Test, Monitoring & Distribution; Audio & Communications; Lighting & Grip; Delivery/Pick Up; Media Sales; In-House Repairs: Used Equipment Sales. All formats: Analog Reel to Reel & Cassette Tape (1/2", 3/4", 1", 2")-Digital Betacam (4:3, 16:9)-HD24p (HDCAM Cine Alta, SRW-5500)-Linear (Digital BetaCam)-Non-Linear (Avid) (1980-2010)
F&B CECO NY: Department Manager of Video, Sound and Projection Equipment (1972-1974, 1977-1982)
MPCS VIDEO INDUSTRIES: Video & Film Equipment Rental Manager, TV Studio Manager (1974-1976)
ELECTRIC FACTORY CONCERTS: House DJ (1968-1969)
EDUCATION
NYU (New York University School of the Arts, Undergraduate Film and Television): David Oppenheim, Dean. Teachers: Haig Manoogian (Sight and Sound), George Stoney (Documentary Video), Beda Batka (Cinematography), Mardik Martin (Screen Writing), Carl Lerner (Editing). Notable teachers and classmates: Martin Scorsese, Carl Lerner, Oliver Stone, Jonathan Kaplan, Martin Brest and Jimmy Picker (for their credits see: www.imdb.com).
IMERO FIORINTINO: Lighting for Television.
POSTHORN RECORDING: Audio Recording for Motion Pictures.
ICP (International Center of Photography): Harvey Stein (Portrait Photography); Susie Cushner (Sales & Marketing).
SUNY WCC Center fot the Arts Wesley Bernard (Studio Lighting), Sean Hemmerle (Documentary Photography), Janusz Kawa (Photoshop), Nicole Tschampel (Digital Photography, Mentored Portfolio), Joe Winter (Digital Arts).
Fleischer Art Memorial: Frank Gasparro, 10th Chief Engraver of the US Mint (Sculpture): Louis Hirschman (Drawing)
Summer Arts & Music Camp: Adolph Dioda, American sculptor
Settlement Music School: Walter Burle Marx, Brazilian composer, conductor, pianist, cellist (Piano)
ASSOCIATIONS
ASC, SMPTE, AES, PERA, HPA, NYWIF, OTHER.